Servicemembers United presents S.U. Second Saturdays at Bourbon Street
Servicemembers United will host its monthly LGBT Military Happy Hour, S.U. Second Saturdays, on the second Saturday of each month at Bourbon Street Bar & Grill. The event will take place from 5-7 pm.
Servicemembers United is the nation's largest organization of LGBT troops and veterans of the U.S. armed forces, as well as their partners and civilian allies.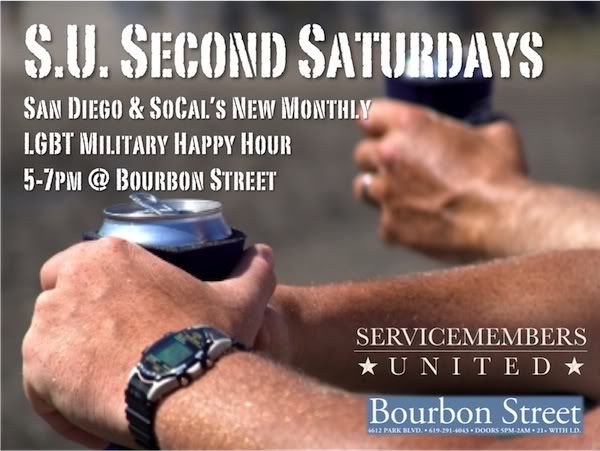 Saturday, 08 December, 2012
05:00 PM - 07:00 PM
Categories:
Bourbon Street
4612 Park Boulevard
San Diego
,
CA
92116
USA
Email:
Phone: 619-291-4043
Website:
Click to Visit
Browse Events at this Location
Event Contact Info
Website:
Click to Visit
Share this Event
More...
Tweet this Event
Email to a Friend
Save to Your Calendar
Google Calendar
Yahoo! Calendar
iCalendar (
download
) (
subscribe
)
vCalendar (
download
)
hCalendar & hCard (
?
)
Featured Events
Thursday, 23 May, 2013

Saturday, 25 May, 2013

Wednesday, 29 May, 2013

Sunday, 02 June, 2013

Friday, 07 June, 2013
Most Popular Events
Sunday, 09 March, 2014

Sunday, 13 April, 2014

Sunday, 27 July, 2014

Sunday, 27 October, 2013
Newest Events
Saturday, 25 May, 2013

Friday, 12 July, 2013

Saturday, 25 May, 2013
Visit our Media Partners